Black & White Animals Portraits
Lukas Holas nous présente des portraits exceptionnel d'animaux en noir et blanc. Son amour et son admiration pour les animaux émane à travers chaque puissante close-up. Renforcée par un bel éclairage nous dévoilant les détails incroyables, et le style intime de ces portraits animaliers. Un reportage photo émouvant et puissant.
A visit to Chernobyl and Pripyat by Viktor Nemeth
Today Viktor Nemeth (flickr stream) will share his some photos from his trip Chernobyl and Pripyat (click for larger view): Certainly – the gear were: Nikon D600, Nikkor 16-35/4, 50/1.8G, 70-200/2.8 VR2. Also took a Sigma fisheye which I didn't end up using at all. As for the story itself, I'll make it a bit long and then you cut it if you'd like to… So the only official way in to Chernobyl
Nikon D4 listed as discontinued, NEF codec support for D4s is already out
Crutchfield is already listing the Nikon D4 as discontinued. The camera is also not in stock at the major US retailers (B&H, Adorama and Amazon). The good news is that the new D4s is rumored to have the same price. The latest version of the Nikon NEF Codec already supports the upcoming D4s model: Posted by NikonRumors.com This RSS feed is copyrighted and cannot be republished in any way

In the Mind of Celebrity Photographer Luke Fontana
Luke Fontana is a celebrity photography that hasn't been shooting for long but already has quite the portfolio.The post In the Mind of Celebrity Photographer Luke Fontana appeared first on The Phoblographer.
2014 Winter Olympics Opening Ceremony in Sochi
The Opening Ceremony kicked off the start of the 2014 Winter Olympics in Sochi, Russia today. The torch was lit after a dazzling display of performance and fireworks. –Leanne Burden Seidel (28 photos total) Dancers perform during the Opening Ceremony of the Sochi 2014 Winter Olympics at Fisht Olympic Stadium on February 7 in Sochi, Russia. (Pascal Le Segretain/Getty Images)
2014 Sony World Photography Awards finalists revealed
The shortlist for the Sony World Photography Awards has been announced in the Professional, Open, and Youth categories. Photographers from 166 countries submitted nearly 140,000 images, the highest number of entries in the awards' seven year history. The winners of the Open and Youth categories will be announced on March 18. Professional category winners will be announced April 30. See gallery
Artist Replaces Billboard with Art in Paris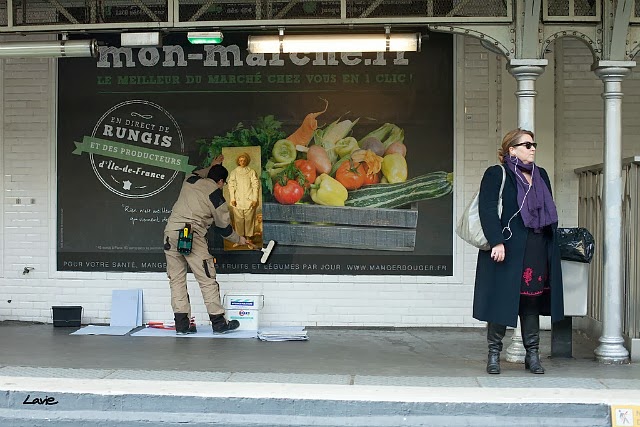 Intitulée « OMG, Who Stole My Ads », cette série de photographies signée Etienne Lavie s'amuse à remplacer numériquement des publicités dans divers endroits de Paris par des représentations de tableaux classiques mondialement connus. Une jolie visibilité tout en contraste pour ces oeuvres d'art inestimables.
The Essence of Masculinity – Portraits of Men
We are at the end of our two week Portrait Deep Dive and I thought I'd end it with one more portrait collection for you. Last week we had Inspiring Portraits of Women, this week it's the mens' turn! The Essence of Masculinity –